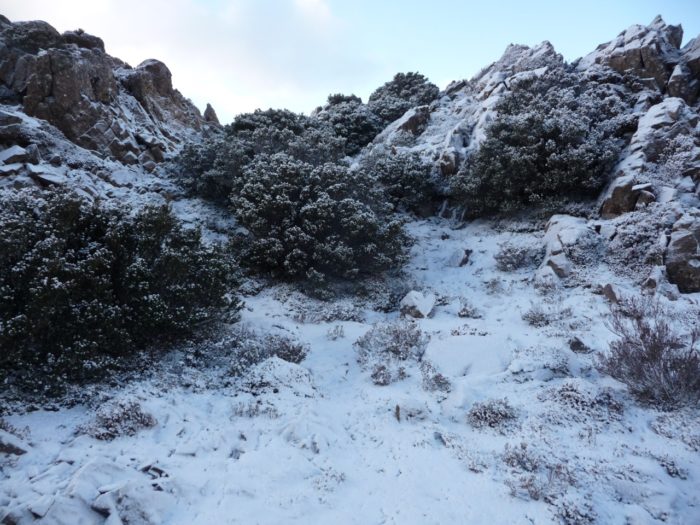 Hobart Show Day, 20 October 2016, we set off on our epic 8-day walk to find and follow Ritter's Track to the Walls of Jerusalem on Tasmania's Central Plateau, feeling very excited if not a little weighed down by our packs.
We intended to walk to Ironstone Hut at Lake Nameless following Higgs Track.  Ritter's Track apparently starts just south and east of Ironstone Hut.  The weather forecast wasn't brilliant, although there had been no Bushwalkers Alert issued for the Central Plateau by the BoM.
In fact, the weather was not good at all — a fair amount of rain was on the way (a friend later told me they had nearly 200mm over that weekend!).  With this in mind we decided to delay the start of our walk by a day, and stayed at the lovely Mole Creek Caravan Park.  Well, normally it would be lovely, but this night was VERY wet!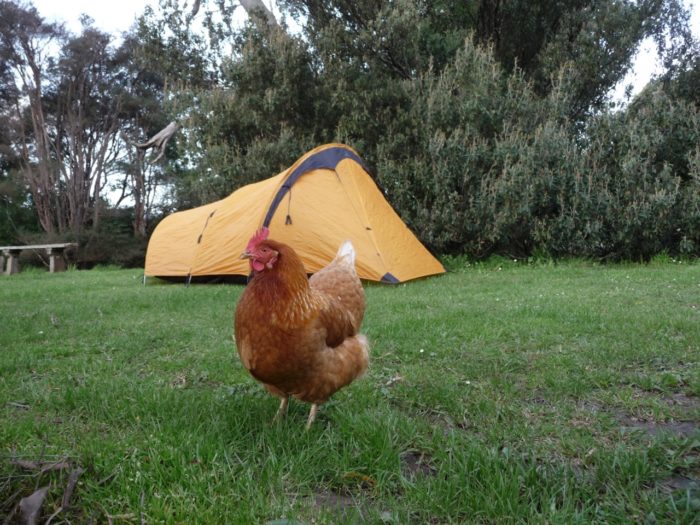 The morning saw us stowing a very wet tent into my already-heavy pack, and trying to dry out a bit. After some issues with my new MSR Whisperlite Universal stove were partially resolved by a quick trip to Devonport, during which we popped in to say hi to my Mum, we set off for Higgs Track.
Higgs Track is named after Sydney Higgs, who cut a route onto Tasmania's Central Plateau in the late 1870s to graze cattle in the highlands.  The track is well-marked and used by fishers accessing the many Plateau lakes, and walkers accessing the wild country beyond.
We knew to expect a steep track — it rises about 750m to the escarpment.  I guess we weren't prepared for just how steep and brutal it was!  I have never started a walk with a track like that.  The Arm River Track is a stroll in the park in comparison.  I suspect that when the guide notes all say "the track is steep" then we need to expect the worst.
Having said that, the top part of the track was amazing.  Lady Lake empties out over the escarpment and onto the track.  We got our first indication of just how wet the plateau was while crossing the torrent/waterfall just below the escarpment.  And suddenly we were on the Plateau, with Lady Lake Hut only a few hundred metres away!
The weather was rapidly closing in as we arrived at the hut, so we decided to stay for the night.  We shared the hut with three interesting local guys who were out for the weekend visiting Lake Nameless.  The hut is very well maintained and provided a warm and safe haven from the weather outside.
After dinner we went outside to enjoy the stars.  The show was incredible, with many many more stars visible than in Hobart.  And then, delightfully, it started snowing.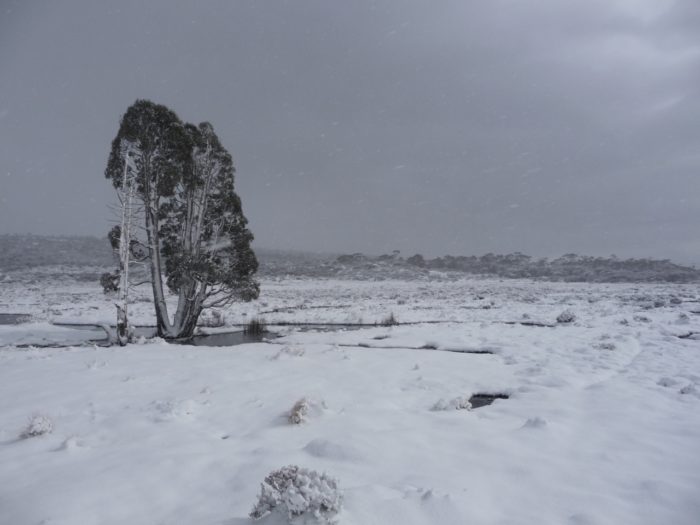 Morning dawned to a white cover and dark, heavy skies.  After a leisurely breakfast we left the hut for the walk to Lake Nameless.  The track was easy to follow, even in the driving snow showers.  The walk was wet.  I mean, if we lost the track briefly we would look for a stream, knowing that would be the track.  Water lay everywhere.  And a lot of it was moving.
We arrived at Westons Lake as the weather cleared, and the sun finally visited the Plateau.  I noticed that there was a great tent site here, dry and flat.  After a short rest we headed off again in search of Lake Nameless.  The snow cleared, and what lay around melted during the afternoon, leaving even more water around.
This area is beautiful — wild and remote.  I felt small in the landscape, but privileged to be in it.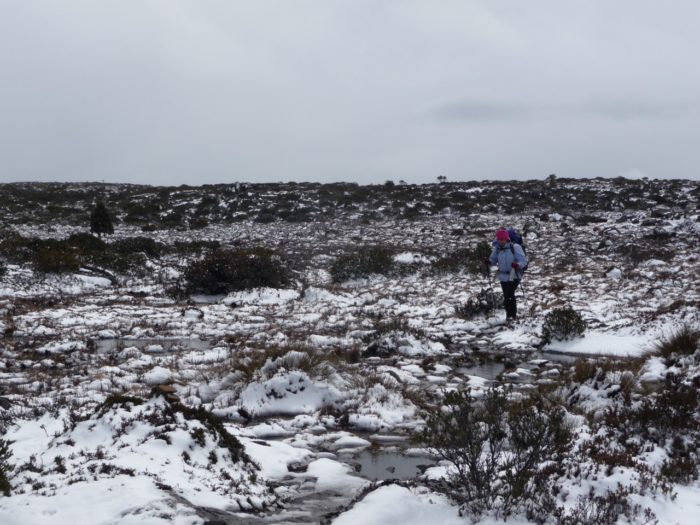 We arrived at the outlet creek at Lake Nameless after about four hours walk to find it was a raging torrent.  I could have forded the creek but we were concerned.  We dropped our packs and walked down to Snake Lake looking for a safer crossing, to no avail.  We went further down to the outlet from Snake Lake to Lake Explorer but, again, no joy.  There was just too much water.  While we were there we also checked out Lake Pitt, a shallow tarn that would be fun to swim in during warmer weather.
Returning to the outlet creek at Lake Nameless, we discussed our current situation.  We felt that this was a sign of how wet the entire Plateau was.  We were going to find similar problems at every creek crossing, and there were a few between here and the Walls.   So, it was with heavy hearts that we decided to cut our walk short, and come back in the summer when there was less water to tackle the rest of the walk.  After all the excitement, anticipation, and preparation it was disappointing that this was going to be the end of our walk.  But the Plateau was not about to let us off so lightly.
With our packs feeling heavier after our decision, we headed back to Westons Lake, and the only tent site I'd found on our journey to Lake Nameless.
We arrived at the lake in good time, to find someone else also shared my view that it was a good site to camp at.  He was a young fly fisher out to wet his line.  We told him what we were doing and he agreed it was a sound decision, which made us feel a bit better.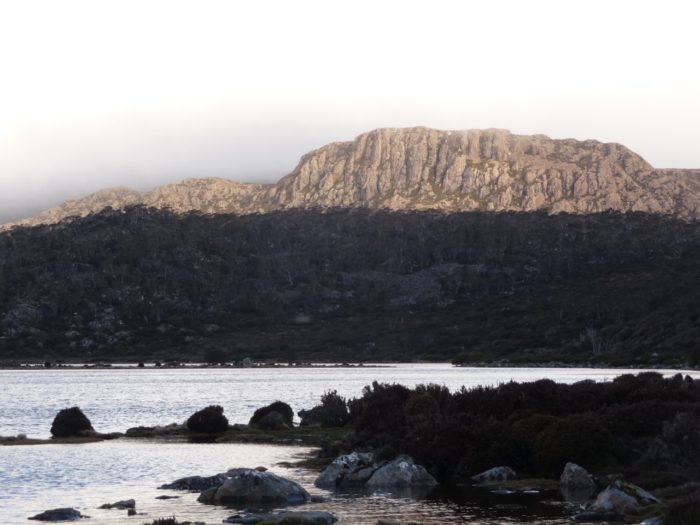 Tent set up, and our beds inside looked very inviting.  We started arranging dinner as the sun left the Plateau, leaving us at the mercy of the cold.  We finished eating as the weather turned.  Snow flurries turned into serious snow showers that settled on the tent and ground as we turned in for the day.
The morning brought a beautiful white world.  The snow had stopped during the night, leaving a cold, clear sky.  Our sleeping bags were more than warm enough, and the tent added at least 15°C to the ambient temperature, making it very difficult to get up!  But the snow was so amazing in the clear morning that I got out and took some photos before returning to our cozy nest.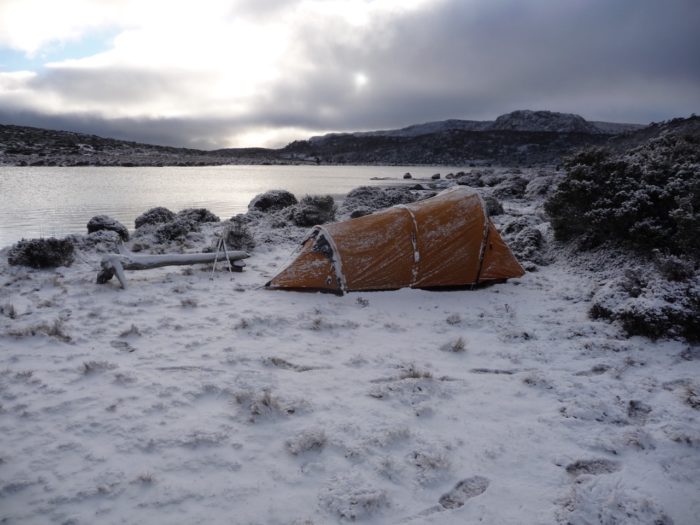 A little later we both arose to take in the wonder of our location.  Snow, lake, blue sky, sun.  Simple and elemental; but, somehow, everything good about life was present in that moment.  This is why I bush walk.  This is why I live in Tasmania.
All too soon it was time to depart.  Our friends from Lake Nameless turned up on their way back to Lady Lake Hut and stopped for a chat.  They gave us the news that the water level in the outlet stream was a little lower this morning than the previous afternoon.  They hadn't been able to get up Forty Lakes Peak, but had spent a warm night at Ironstone Hut.  They agreed with us that the rest of the Plateau would be saturated.
We struck camp, and started the walk back to Lady Lake Hut.  It was a warm day, with the sun out and melting the previous night's snow.  We arrived at the hut after about two hours walk through the wild landscape, following the well-defined track.  It was so warm on the deck of Lady Lake Hut that we dragged out two arm chairs to laze in the sun and enjoy our lunch.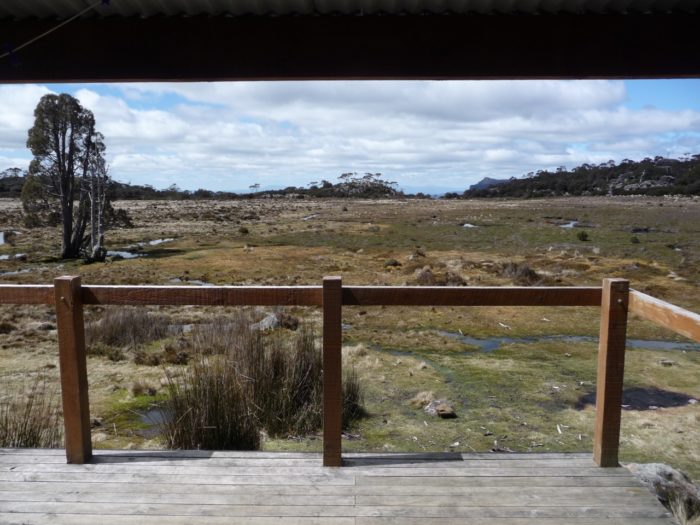 Then it was time to tackle the descent off the escarpment.  Brutal.  Steep, long, tiring, and we still had six days of food in our packs…