You can see from reading my site that I use a few One Planet products. This indicates the esteem I hold their gear in – world-class and bombproof, sparking much confidence.  So, when I wanted a new winter-weight sleeping bag to replace a much older Mountain Designs Col, One Planet was one of the brands I looked at.
The bags are partially made in One Planet's Melbourne factory. The shells are machined in China, with down-filling and quality control carried out in Melbourne.
There are very few reviews of One Planet sleeping bags online, so I checked out the various bags at a local Hobart dealer, finally settling on the Winter Lite. I purchased it through the One Planet site.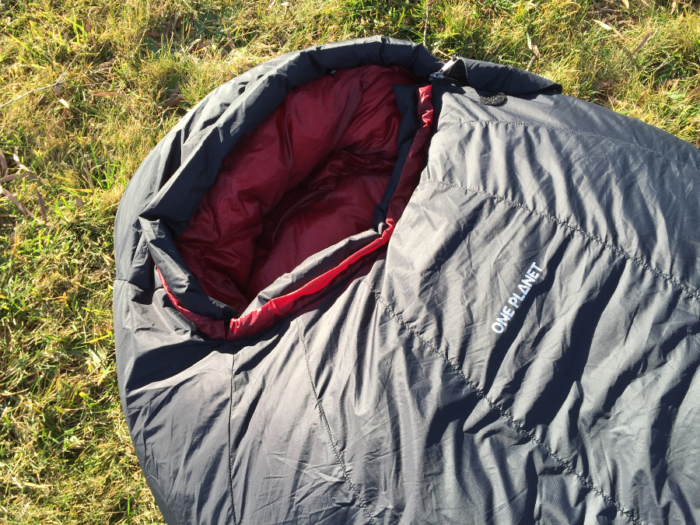 This model has a black Pertex Endurance outer, with a gorgeous deep red silky 15 denier inner. I got the -16 version, with over 900 grams of 800 loft down. The specifications on One Planet's site indicate a comfort rating of -9°C and a lower limit of -16°C for the Winter Lite, so it should be plenty warm enough for a cold Tasmanian winter's night. It's a mummy shape featuring an inclined foot, a radical differential cut, gently elasticised baffles in the middle third of the bag, double draught tubes down the length of the two-way zip, and a hidden zippered pocket on the inside of the chest baffles. The outside of the bag is unadorned except for two small One Planet motifs, and two thin piping strips the same gorgeous colour as inside the bag. Finally, it weighs in at under 1.4kg with stuff sack.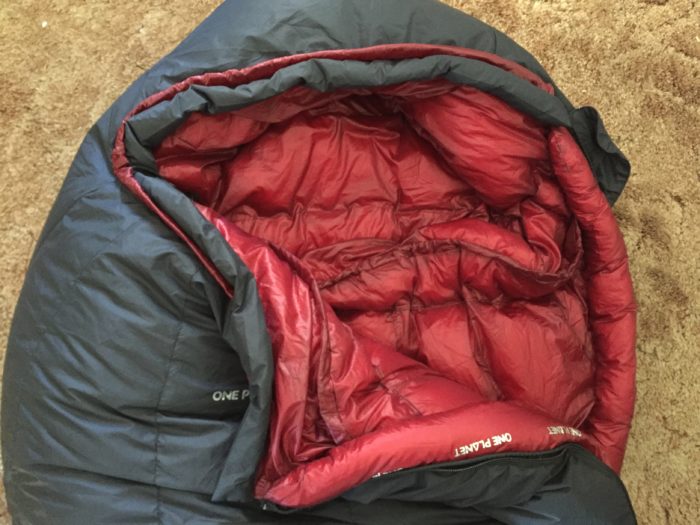 So, what's it like? I feel this bag is brilliant. The size is perfect, and the bag really hugs my legs meaning there is as little air as possible to warm up inside.  I have a really good night's sleep in it.
My initial thought regarding the gently elasticised areas of the bag was that they may constrict my movement in the bag.  I'm very happy to report this is not the case.  I've never felt constricted in any respect.  The bag is also generously cut around the shoulders.  There is sufficient room for me to move my arms about carefully.
One issue I had with the bag was that it felt a little under-finished.  There was one large cotton loop attached to one of the baffle sew-lines, and some patchy stitching on one side of the zip.  I have previously read about these issues with another One Planet bag.  I simply cut the thread loop off.  It is a little disappointing though.  The Winter Lite is a premium sleeping bag, and finishing is one the areas that should make it premium.
Another concern I have is with the elasticised stitching.  Although the stitching looks quite robust at the moment, I have seen such thread deteriorate over time.  Only time will tell I guess – all good so far.
Those issues aside however, the One Planet Winter Lite -16 is an excellent sleeping bag and I am very confident in it's performance.  So much so that I use it as my main winter bag.