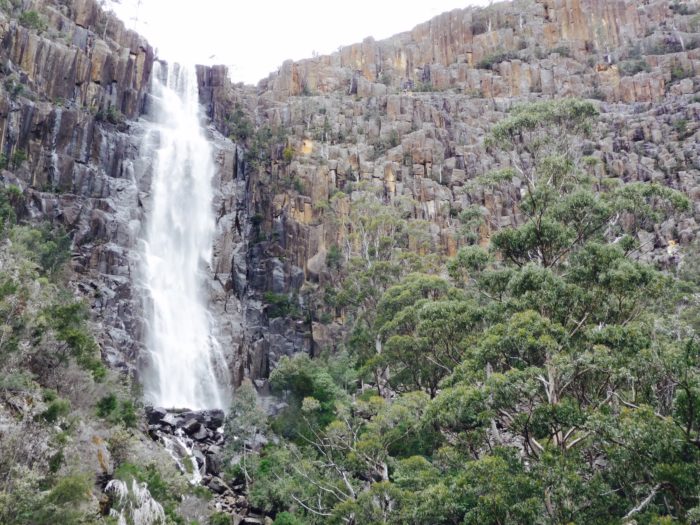 Sunday's weather turned out to be fine so, since we were in the area house-sitting for friends, we went for a walk out to Pelverata Falls.
The track to the Falls rose slowly at first through a nice damp sclerophyll forest along an old 4WD track.  This ended at a gate, with the signposted track to the Falls heading off to the right along a well defined walking track.  We came across some areas of mud, but it was all on a solid base.  We also encountered interesting evidence of old selective logging practices in the upper reaches of the forest before the track reached a steeper rocky section.  This area of the forest was much wetter, with most surfaces covered by verdant mosses and lichens.
The track became moderately steep, with long rocky drops to the valley below.  The views across the Snug Tiers were quite nice,  and getting better the closer we came to the Falls.  A major cascade came into view across the valley from us, falling gently from the tiers and raising our expectations for the bigger Pelverata Falls.  We could hear them before we could see them and, given how much rain Southern Tassie had had in the days prior to our walk, this was exciting!
We scrambled around the last of the rocks and there was the viewing platform.  Pelverata Falls plummeted off the Tiers beyond.  Spectacular!
It was hard to drag ourselves away from the view.  I scrambled down to the cascade below the viewing platform.  Pelverata Creek was certainly flowing fast!
Back at the viewing platform, we had a drink and chocolate before retracing our steps back to the car park.  My GPS informed me that we had walked nearly 12 km.
A very satisfying afternoon, and a huge payoff with Pelverata Falls putting on quite a display!
NOTE: The Falls are in the Snug Tiers Nature Recreation Area meaning dogs are not allowed into the area.  We saw at least 10 dogs on leashes and a horse(!) on the track!