The view down the valley at Sandfly
When a friend asked me recently whether I'd like to house-sit for him and his family, I think he was surprised when I immediately said yes.
John and his family live in Sandfly, south of Hobart.  It's a good 30-minute drive to Hobart, and even more in the mornings, when drivers contend with enormous throngs of other drivers heading for schools and jobs in Hobart.  I'd like to say that I knew the week John was asking me to house-sit was during school holiday time, and that the traffic during school holidays is usually quite light (I guess half of Tasmania migrates to QLD and Bali — it's a way to greet the change in seasons down here).  That would be a lie however.  It was sheer good fortune.
My main thought was that it would be a wonderful thing to wake up in the bush, surrounded by the sounds of silence for a while, rather than in the not-so-silent Hobart suburbs.
So, my partner and I headed down on the Friday John and family abandoned the State and, armed with the aid of a three page list of tasks and chores, became landed gentry for a week.  That first weekend was idyllic, and the week following was only marred by having to leave each day to go to work.
On the first Saturday, the silence was rudely interrupted many, many times, by inconsiderate birds letting us know it was morning, and who were obviously in a hurry to meet the new folk on the block.  The doggies, too, were quite ready for their walk at some ungodly hour before 10am which, as everyone knows, is the civilised start of the weekend.
Seriously though, the view down the valley is special.  It's worth the 30-minute drive just to see the view.  Staying at Sandfly was everything I'd hoped it would be — fun, a change, and it felt like we were on a retreat.  The week passed way too fast.
Walking the girlies; chopping wood (something I've not done in many years); negotiating the (extremely light) traffic on the way into work (which, again, is something I've not had to do for a good decade or more); endure the Kingston off-leash dog beach (which turned out to be a lot of fun); excursions to Channel Court; fresh eggs from the chooks (although one of them died so I had to bury her); exploring the area; and suddenly it was time to get the house shipshape for John, Narelle, and Toby to come home to.
This is one of those occasions where we had an adventure without having to walk anywhere.  Thank you John, Narelle, and Toby for inviting us to stay.  And to Dasha and Mad Maisy for all your licks and wrestling.
Blooming rose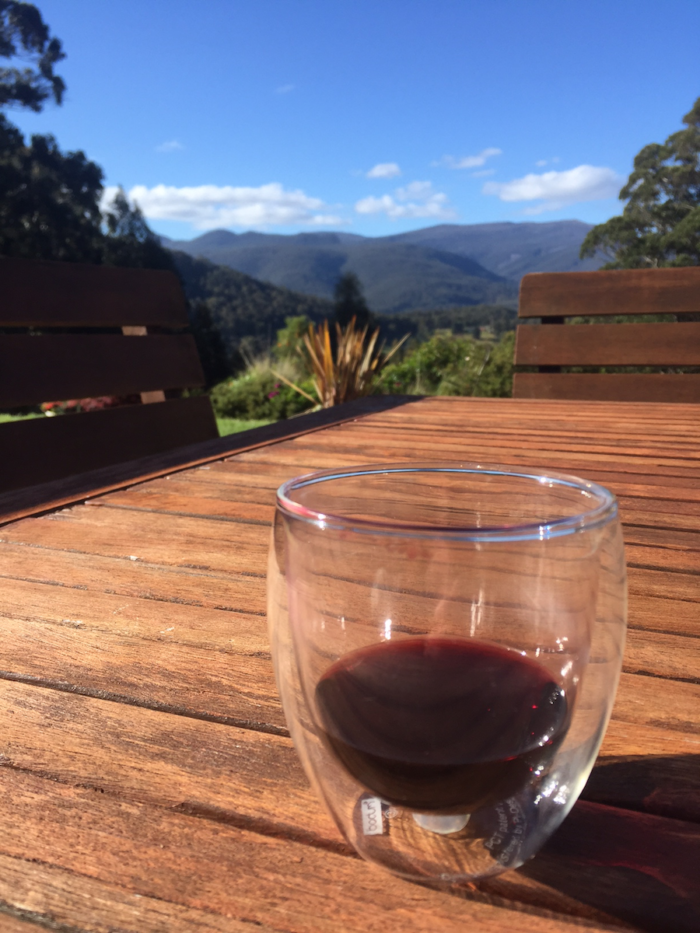 Wine o'clock with a view
The mad doggies at Kingston Beach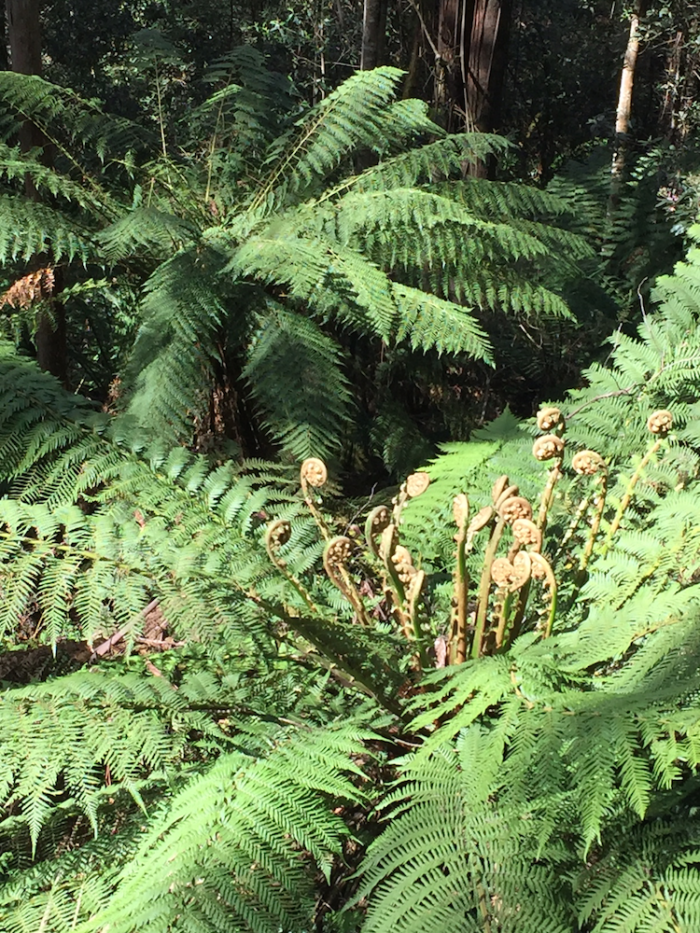 Tree ferns along Halls Track Road, Sandfly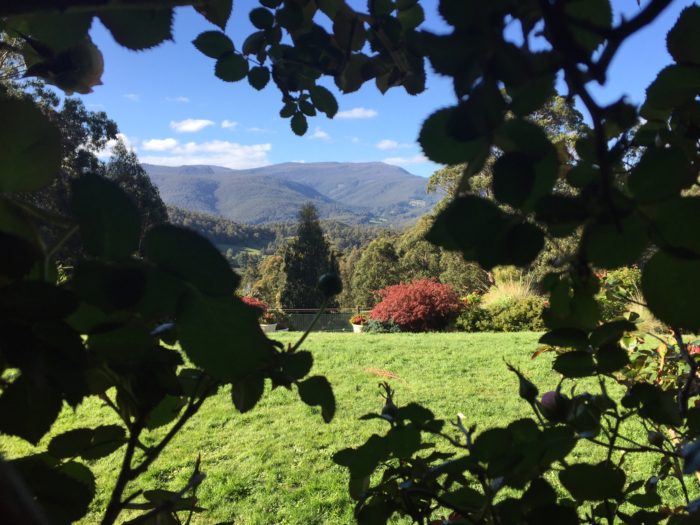 A shady view