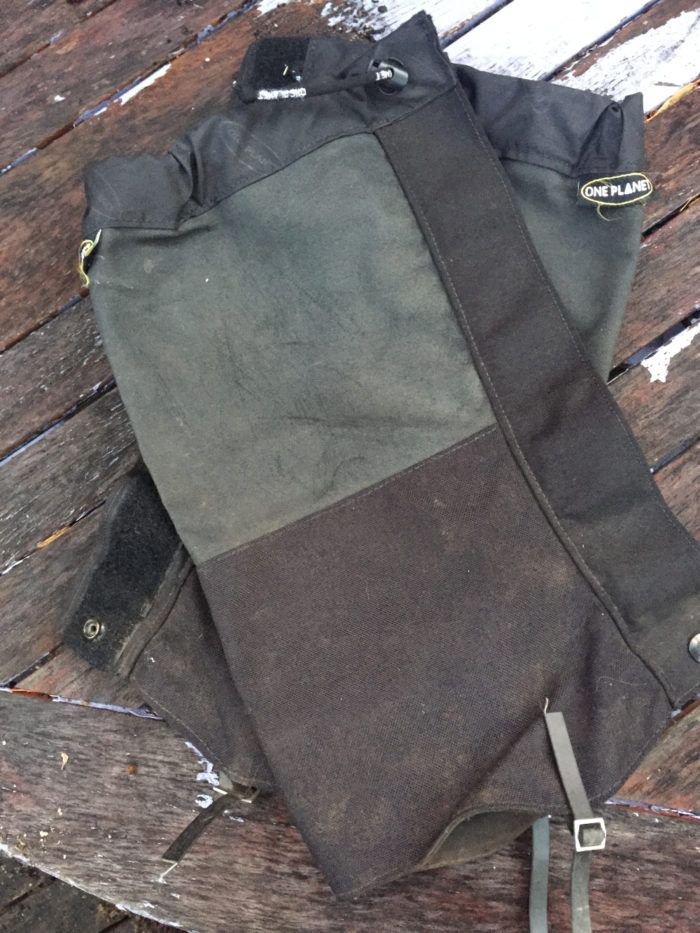 If you're walking in Tasmania, chances are you'll be needing gaiters.
Gaiters protect your legs when walking.  They stop prickly stuff going down your socks and boots.  They assist in being a barrier between scratchy scrub and legs, between leeches and legs and, more importantly, between snakes and legs.  I categorise gaiters as essential gear for any serious bushwalker.
So, with that motivation, which gaiters do I use?  One Planet RFGs (pictured above) are my go-to gaiters.
There are many great gaiters out there.  A visit to a chain store like Kathmandu, Macpac, or Mountain Designs,  or a good independent like Bogong Equipment, or Mountain Creek Outdoors will give you an idea of the variety and cost.  And Tasgear makes great gaiters locally.  Most of the examples you'll find would be a good investment.
Gaiters may be categorised by what they are worn for  — ankle gaiters are good for hot areas where grass seeds and sand are an issue (the outback grass seeds are merciless); snow gaiters are for, well, keeping snow out of your boots when skiing and during alpine adventures; general purpose gaiters are used for everything else.  In Tasmania, and I guess for walking in bush generally, I use general purpose gaiters.
I've used gaiters made from nylon and canvas.  I know there are gaiters made from Gortex and other "breathable" fabrics, but I've never tried them.  I don't know how durable those fabrics are.
When I first started bushwalking I bought a pair of nylon gaiters.  On the positive side, they are reliable, light, and cheap.  Where these gaiters have problems is that they do not breathe, and I have found that my legs get very sweaty and hot beneath them.
These issues led me to search out gaiters that don't make me feel as uncomfortable.  I tried out a friend's pair of canvas gaiters on a walk into the Walls of Jerusalem.  They worked well – saved my legs from the scoparia, some of the leaches, and kept my legs warm (I generally walk in shorts) and relatively dry.  Don't get me wrong, my legs still perspired, but the canvas allowed some of the perspiration to escape, so my legs were nowhere near as wet as when I used nylon gaiters.  I bought a pair based on the trial, and used them for 20 years.
When it came time to replace my original canvas gaiters I chose One Planet RFGs. The upper part is canvas and the lower part is made from hard-wearing nylon.  The durable nylon lowers work well, as this is where there is most abrasion.  The gaiters open at the front and have a wide velcro strip to tightly close them.  This may be an issue, as the velcro picks up grass, mud, and other track detritus.  The mud can be washed off, but the other is more difficult to remove.
I used my previous gaiters for 20 years.  I hope to have these gaiters for at least that long.  Time will tell.
Reference: King, Scott. http://mag.bushwalk.com/gaiters/