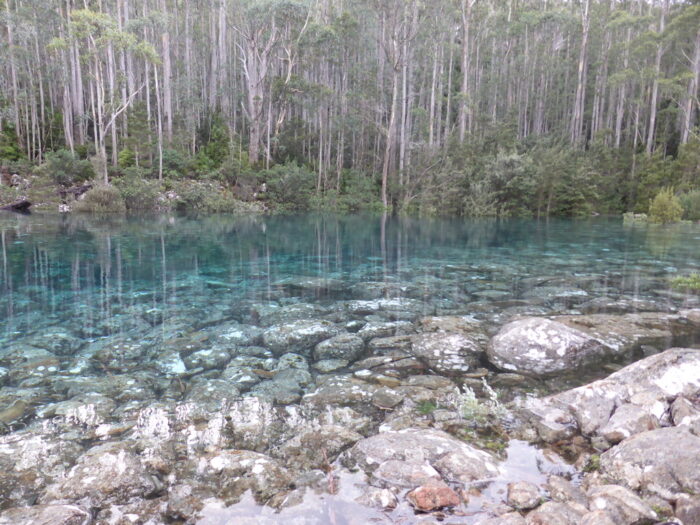 There was an enormous amount of rain in southern Tasmania earlier this week (last week in June), which meant kunanyi/Mt Wellington got a LOT of rain – over 330mm from Monday to Thursday!
This has led Disappearing Tarn to reappear! This is a special event, as the tarn only ever appears after a significant weather event – at least 60mm of rain falling over a few days, or after a large snow event. The last time was 2018. Due to where the tarn is, the water only stays around for a short time. Disappearing Tarn is on the edge of the Potato Fields, a large area of boulders and scree on the south eastern face of the mountain. It is formed in a depression in the rocks. Consequently, any water that accumulates there soon percolates down through the rocks/scree, and thus the tarn disappears.
My partner Kathy and I chose to walk to Disappearing Tarn on Friday as we thought there may be fewer people visiting the tarn than over the weekend. We had heard there had been large crowds visiting on Thursday. I overheard some Mountain Authority workers, who were stationed near the tarn, saying there had been 3000 visitors in the previous 24 hours!
The walk in was great – cool day, so I wore three layers (a thermal top, silk and merino t-shirt, and a light down-filled vest). We sauntered along Milles Track from The Springs, taking in the views of the Channel region south of Hobart – Kingston/Blackman's Bay, Bruny Island, Sandfly.
After about two hours we were approaching the tarn. Us and half of Hobart, it felt like! There was a queue of people waiting to get through, and not much social distancing going on. I did ask the guy pressing up behind me to please keep his distance, which he graciously did. Not long after we were at the tarn. And it was worth it! There was a huge amount of water – more than I'd previously seen there. The water was crystal-clear and had the classic and beautiful turquoise colour that photos on social media depicted, and that I'd seen back in 2018.
I had brought a small stove in with me, and the means to make a cup of tea. It was quite cool once we had stopped walking, so the warm tea was very welcome. After a snack, the tea, and some photos, we left this magical place. We got back to the car in a little over an hour. Great day's outing, and well worth dodging the crowds, as there was room for everyone at the tarn.